General Blood Pressure Cuff Questions
I live outside the United States, can you ship one of these welcome kits to me?
At the moment, we are only offering these welcome kits to patients in the United States.
I have family members included with my Carbon Health account, will they receive a welcome kit in addition to me?
As of right now, we're only sending one welcome kit to each household.
What is systolic pressure and diastolic pressure?
‍Systolic: Systolic pressure is when the ventricles contract and pump blood out of the heart, the blood pressure reaches its maximum value in the cycle.
Diastolic: Diastolic pressure is when the ventricles relax, and the blood pressure
How do I input my readings manually into the app?
Steps to manually enter a Blood Pressure Reading:
Open your Carbon Health app
Navigate to the 'Health Data' tab
Press on 'Add New Log'
Press on 'Blood Pressure'
Enter your blood pressure reading details
Press save
How do I make sure my readings are accurate?
You can get the most out of the Carbon Health RPM program by taking frequent, accurate readings. Before taking a reading, avoid activities that raise your blood pressure.
Don't talk or move during the measurement.
Don't take a measurement immediately after you wake up. Blood pressure is often highest early in the morning.
Take at least two readings daily (morning and evening). This schedule provides your doctor with a bigger picture of your blood pressure.
Measure your blood pressure around the same time every day. If you're on blood pressure medication, take readings 30–60 minutes after taking your medication.### What can impact the accuracy of my measurements?
Measurements might be inaccurate if they're taken under the following circumstances:
If you ate dinner or drank in the last hour
If smoked and/or drank coffee or tea immediately beforehand
If you took a bath or shower in the last 20 minutes
If you're talking or moving your fingers during the measurement
If you're taking the measurement in a cold environment
If you need to urinate
If you recently exercised or were active ‍
How do I clean my blood pressure cuff?
Avoid washing the device with water and try to use the dry cloth that comes with the kit. If needed you can use a damp cloth toe remove dirt.
How can I best maintain my blood pressure cuff?
Please follow these guidelines for the best maintenance of your blood pressure cuff.
Store in a dry place
Do not store in direct sunlight
Avoid washing the device with water
Avoid shaking the device or hitting it against hard surfaces
Avoid very hot or cold temperatures
Avoid dusty environments
If you do need to clean the cuff, follow these guidelines:
Best to clean with the dry cloth that came with the case
If needed can remove dirt with a damp cloth### How do I know the cuff took my measurement?
If the measurement is successful, the symbols above the Systolic reading will disappear and then display "do nE". Press the "START/STOP" button to turn it off. Otherwise, it will power off automatically after about one minute.
If unsuccessful, the measurement result will be stored in the equipment temporarily.
Press the "START/STOP" button to turn the cuff off. Otherwise, it will power off automatically after about 1 minute.
Tip: Any time you want to stop the measurement, press the "START/ STOP" button.
‍### How do I put on the blood pressure cuff?
Remove all jewelry, such as watches and bracelets from your left arm.
Note: If your doctor has diagnosed you with poor circulation in your left arm, use your right arm. Roll or push up your sleeve to expose the skin. Make sure your sleeve is not too tight.
Hold your arm with palm facing up and tie the cuff on your upper arm, then align the air tube toward the center of your arm.
Make sure the bottom edge of the arm cuff 1 inch (2-3 cm) above the inside elbow. Then wrap the cuff securely.
Note: The cuff should be snug, but not too tight. You should be able to insert one finger between the cuff and your arm. Sit upright in a comfortable chair with your back against the backrest of the chair. Keep your feet flat and your legs uncrossed.
Place your arm resting comfortably on a flat table. The cuff worn on your arm should be the same level as your right atrium of the heart.
Take 5-6 deep breaths and start measuring!
What's a normal blood pressure measurement?
Only a physician can tell your normal BP range.
Below are blood pressure categories defined by the American Heart Association. Please contact a physician if your measurement falls out of the range. Only a physician can tell whether your blood pressure value has reached a dangerous point.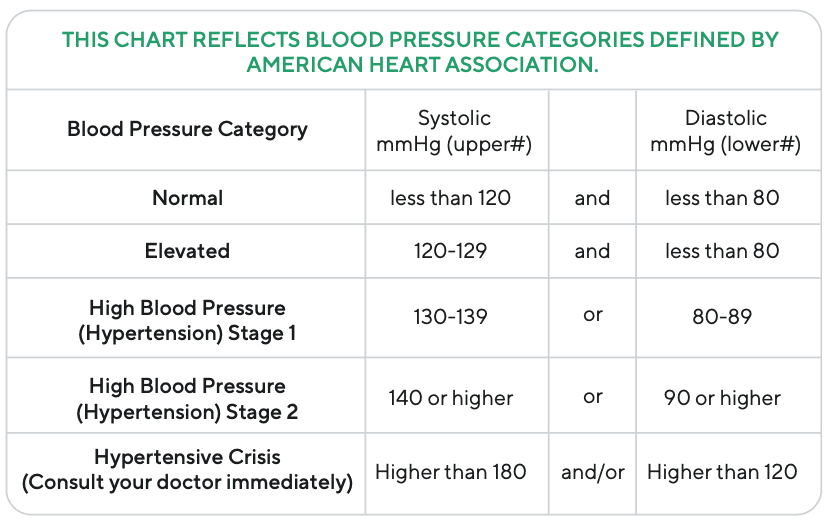 To learn more, the American Heart Association has an excellent breakdown of blood pressure measurements and an explanation of healthy-to-unhealthy ranges.
Why does my blood pressure change throughout the day?
It's normal for blood pressure to vary throughout the day. It's also affected by the way you tie your cuff and your measurement position, so please take the measurement under the same conditions. If you take medication, the pressure may vary even more. If you want to see if your levels have changed, wait at least three minutes before taking another measurement.
‍### Why do I get different blood pressure readings at home compared to the hospital?
Blood pressure can measure differently throughout the day due to a number of factors, including (but not limited to) emotion, exercise, and even the weather.
Here's what you need to pay attention to when taking your blood pressure at home:
If the cuff is tied properly
If the cuff is too tight or too loose
If the cuff is tied on the upper arm
If you feel anxious ‍
Will I get a different result if I measure on the right arm?
Generally, measuring on both arms should not provide notably different results. However, some people may experience different measurements. We suggest you measure the same arm every time.
‍### Why won't the display light up?
If the display isn't lighting up, that likely means the batteries are exhausted, installed incorrectly, or the adapter isn't plugged in properly. Replace/reinstall the batteries or plug in the adapter properly.
What batteries should I use in my blood pressure cuff monitor?
Please use DC 6V, 4 AAA size batteries
Do not use rechargeable batteries
Do not mix new and old batteries
Dispose of batteries safely, contact your local waste management department to learn more about proper disposal
How can I best maintain my blood pressure monitor?
Store in a dry place
Do not store in direct sunlight
Avoid washing the device with water
Best to clean with the dry cloth that came with the case
If needed can remove dirt with a damp cloth
Avoid shaking the device or hitting it against hard surfaces
Avoid very hot or cold temperatures
Avoid dusty environments